Christ's Church, Better Together
In order to boldly and effectively continue our vital witness to the gospel as we journey together into the future, the Rocky Mountain Synod Council has chosen to invest time and resources in four ministry initiatives that form our Next Faithful Step, along with our Racial Justice Tithe.
These initiatives grow out of our existing synod strategic vision and are deeply rooted in what we call our "ELCA DNA," equipping the baptized for ministry, engaging in life-long faith formation, centering our witness on God's living Word and Sacraments, and living as a public church for the life of the world.
Our first two initiatives focus on our commitment to vital healthy leadership, as we equip and accompany rostered ministers, lay leaders, and congregations through education and support. The second two initiatives invite us to invest more deeply in two key synod properties. Supporting and developing these important assets will allow us to expand our ministry of hospitality, faith formation, and spirituality.
Campaign Goal

HOW TO GIVE A CAMPAIGN GIFT (OR PLEDGE)
STEP ONE: VIEW THE CAMPAIGN PROSPECTUS
Learn all about the four initiatives and the tithe for racial justice:
STEP TWO: MAKE A CAMPAIGN PLEDGE
Determine the right amount for you to support the campaign
STEP THREE: GET YOUR CONGREGATION ID (IF APPLICABLE)
To correctly account for "Next Step" gifts given toward a congregation's Phase II goal,
please submit your Congregation ID number with your gift. Use 88888 for gifts not related to an RMS congregation.
3. LOOK UP YOUR CONGREGATION ID
STEP FOUR: COMPLETE YOUR GIFT
Submit that congregation ID number on the online form, write it on your check, or submit it to Tina Kvitek with your stock or IRA distribution transaction. The online form allows for one time gifts or for recurring gifts. Other options are listed below.
Give a gift by credit card using the button, above.
Send in a check with "Next Faithful Step Campaign" and your "Congregation ID Number" in the memo line. Send to: RMS Campaign, 7375 Samuel Drive, Denver, CO 80221.
Authorize a transfer of stock or an IRA distribution by working with your financial advisor and contacting our Director for Development, Tina Kvitek. Email her at tkvitek@rmselca.org. She will provide account information for transfers.
Campaign Resources
---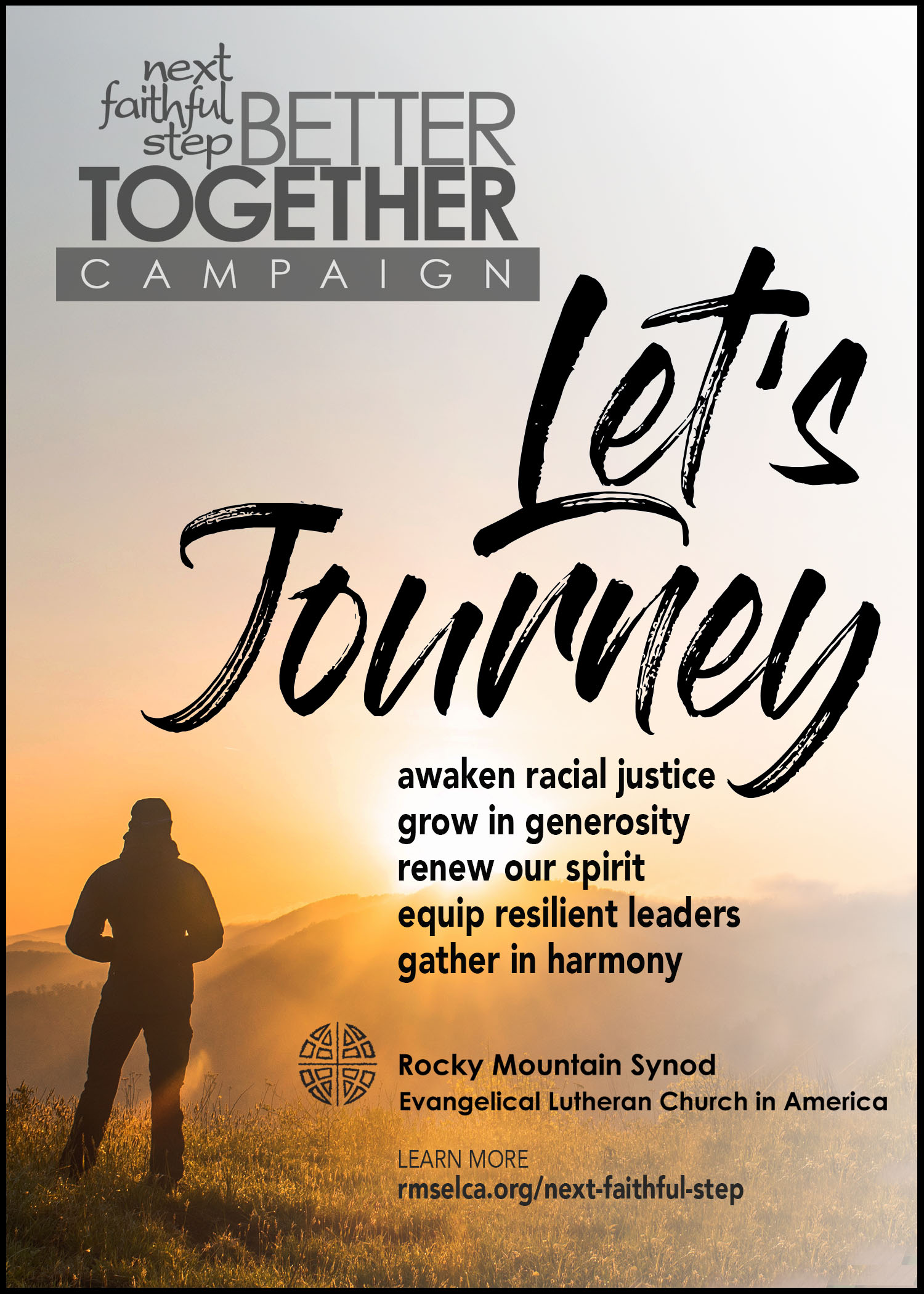 Action Guide for congregations, foundations, and endowments
Campaign trifold summary brochure
Survey for Arts Organizations regarding the Lutheran Center
Our Initiatives
---

Racial Justice Tithe
The campaign is rooted foundationally in seeing our mission and ministry through the lens of diversity, equity, and inclusion. The Racial Justice Task Force is charged with imagining a Rocky Mountain Synod that has been changed by the Love of Christ and taking steps towards action that leads to racial justice.
---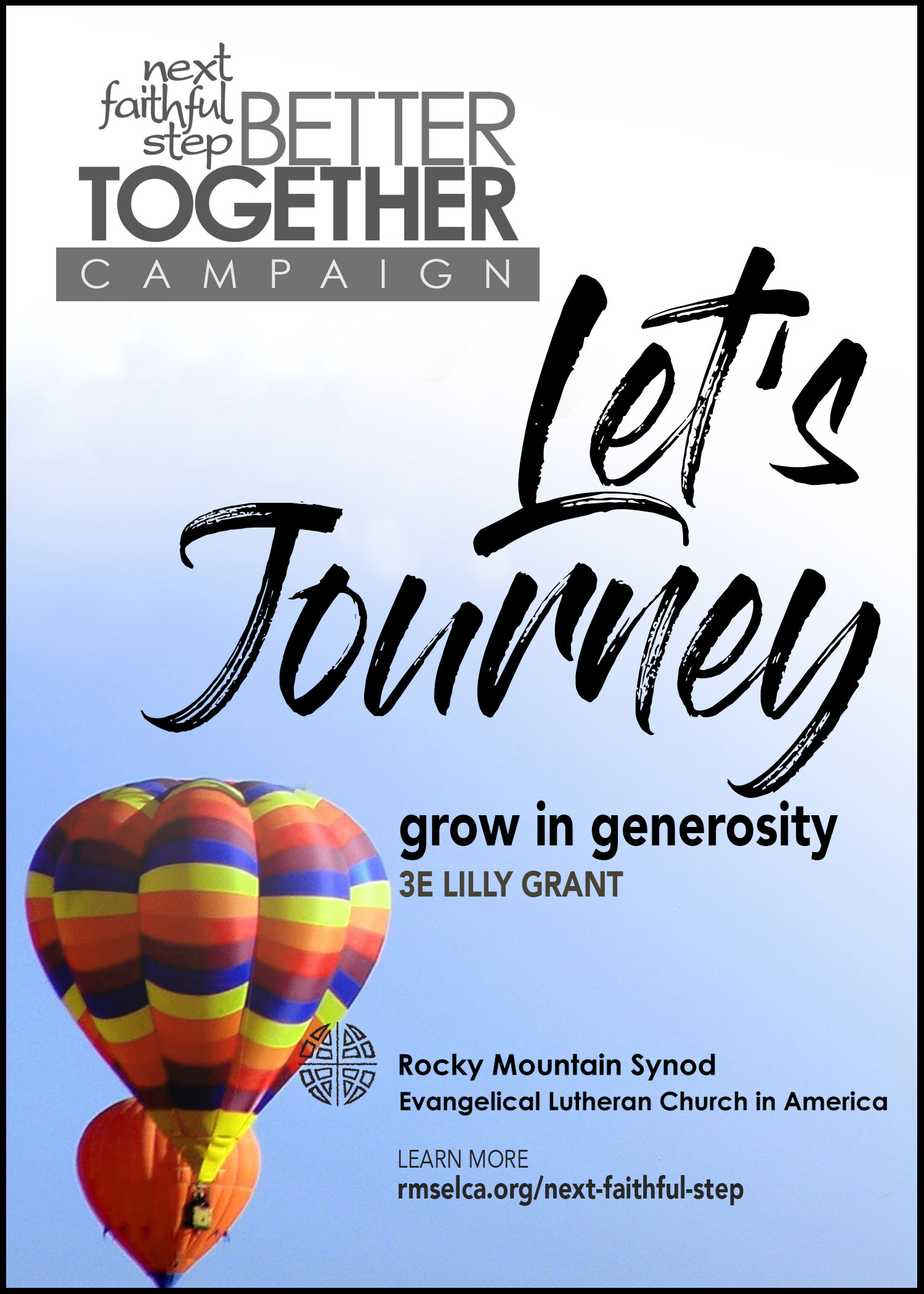 Educate, Equip, Enact (3E)
Phase II of our Lilly Endowmant Grant focused on growing generosity, vitality, and healthy communities:
Stewardship for All Seasons (SAS) and extending it into a 3-year series of program offerings.
Ministerial Excellence Fund (MEF) providing various grants to rostered ministers to help develop stronger financial literacy skills and direct aid.
Vital Right-Shaped Ministry, a new grant pillar, engaging both rostered ministers and congregations/ministries of the Synod to explore how the Spirit may be calling forth a new vision for ministry.
---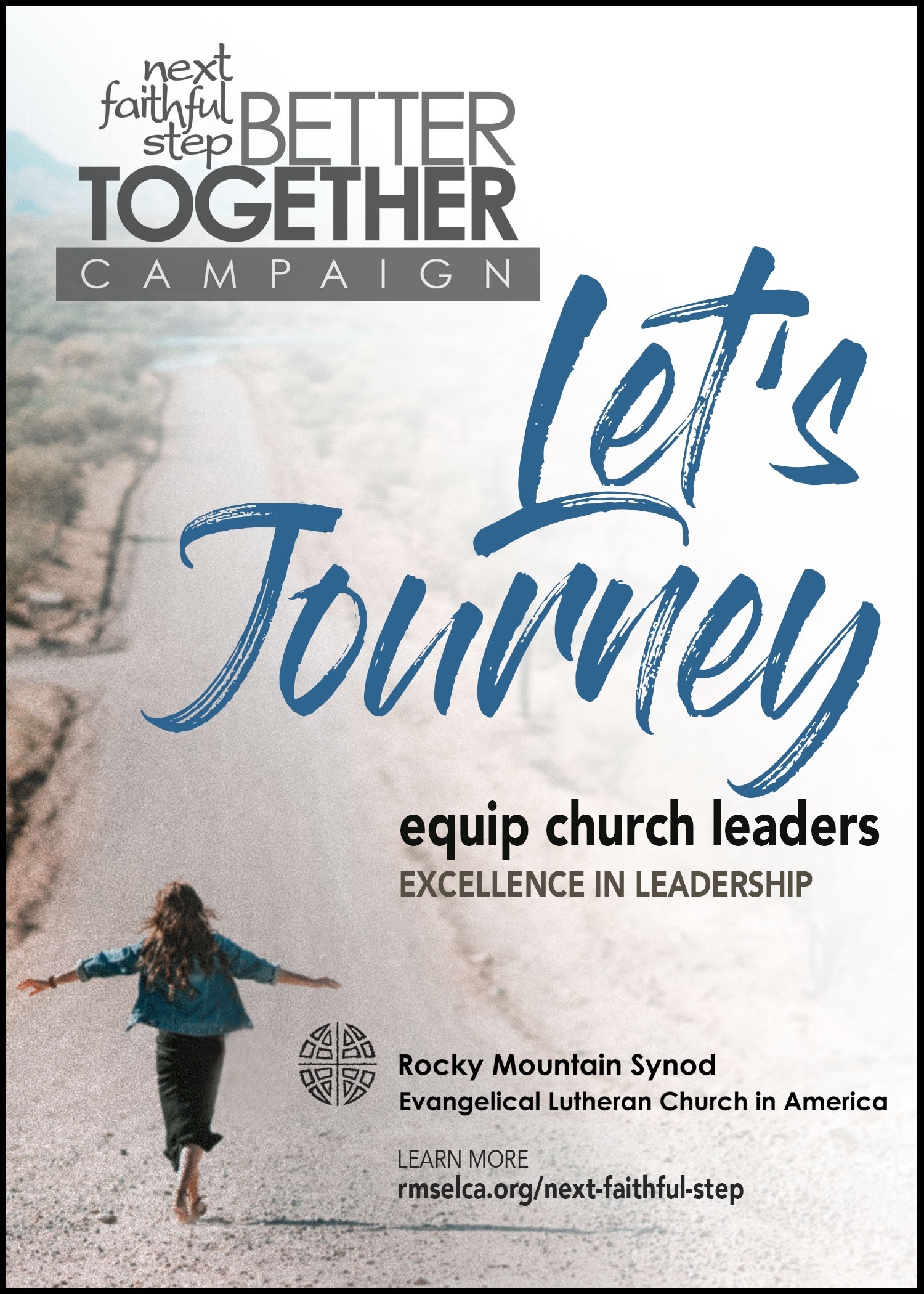 Excellence in Leadership
By increasing our leadership capacity, the Church is strengthened. Healthy leaders give rise to a healthy ministry.
To foster better equipped leadership across the Rocky Mountain Synod, we have developed a comprehensive leadership education initiative called Excellence in Leadership (EIL). Together, rostered and lay participants are engagomg in a series of in-depth classes offered online and in person to complete the two-year curriculum. The certification will equip participants to navigate wise, mature, and emotionally intelligent strategies so they can build and lead courageous, resilient, and faithful communities—for the sake of the world.
Tuition isn't nearly enough to sustain the program without being out of reach. A successful campaign will enable the program to grow and thrive.
---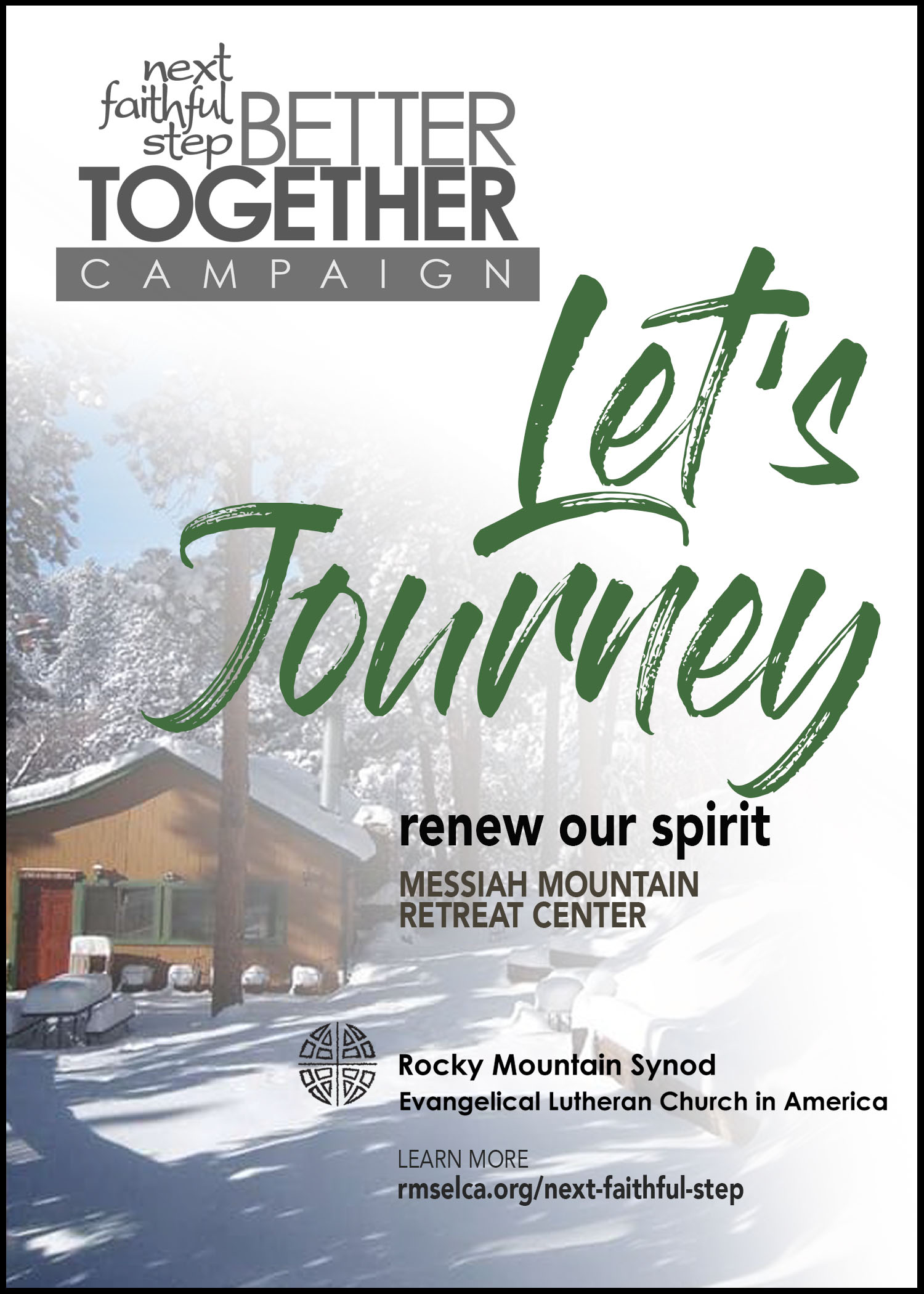 Messiah Mountain Retreat Center
Through the generosity of Messiah Community Church (Denver), a 28-acre retreat site in the Denver foothills is being gifted to the Rocky Mountain Synod. This gift of space offers new opportunities for sabbath retreat and deepening our commitment to faith formation and spirituality, especially for those in the 2nd and 3rd thirds of life. In order to create a safe and welcoming Sabbath retreat space for guests, a number of immediate property improvements are needed as long-term visioning begins.
---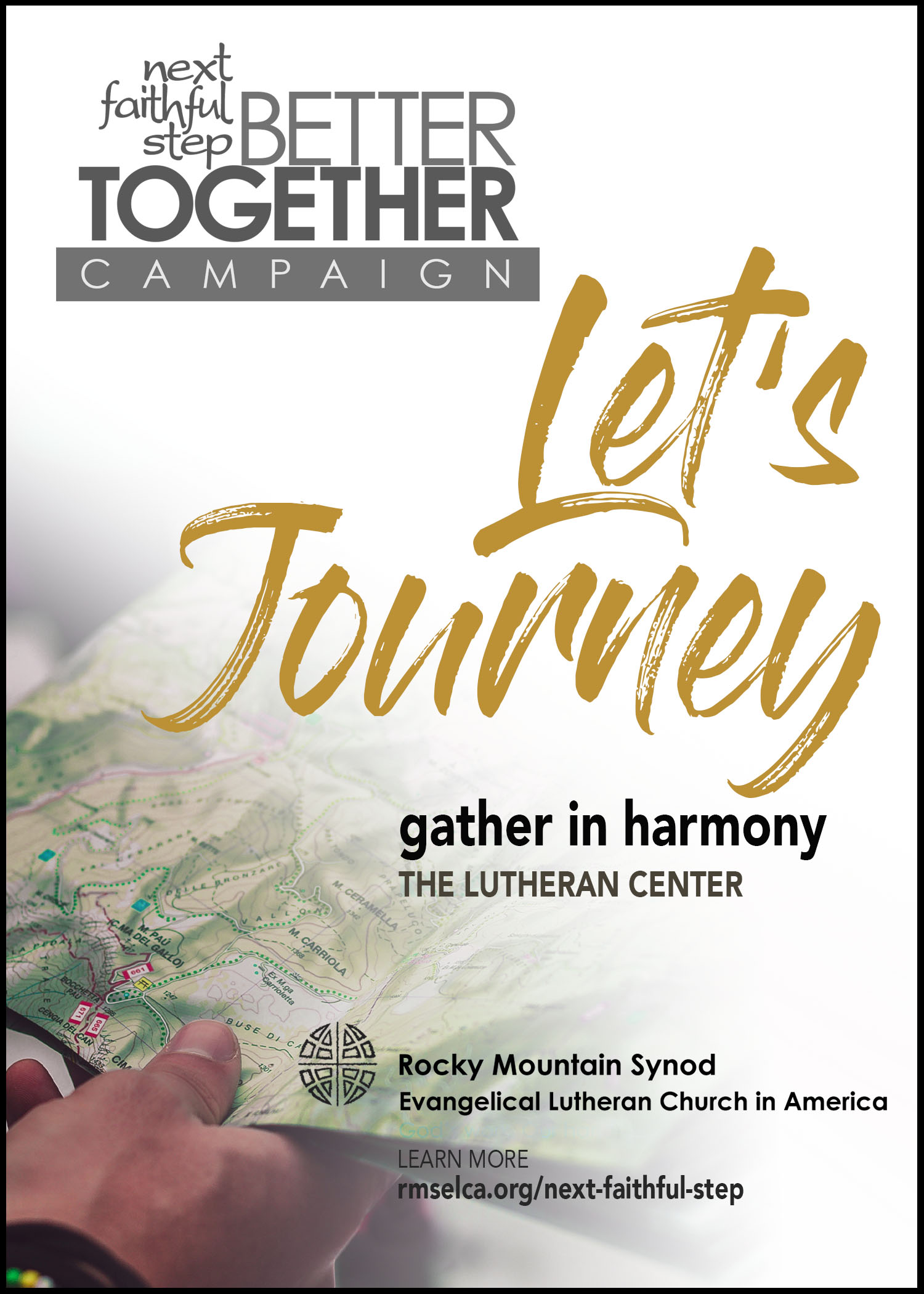 Rocky Mountain Synod Lutheran Center
The Lutheran Center is the home of the Rocky Mountain Synod Office of the Bishop. Formerly home to the Valley Lutheran Church, the original facility was constructed uniquely with three separate buildings connected by a breezeway. This unique building plan creates expanded opportunities for ministry and gathering, and we are grateful to offer a ministry of hospitality. The Lutheran Center is continuing to be known as a place for groups and ministries to gather for large meetings. A number of upgrades are needed in order to carry out a partnership with Alliance for Music Education Equity to create a place for music and arts education in an underserved region of Denver.
• Create a space for concerts, educational events, and other large-group gatherings for up to 175 attendees.
• Enlarge the stage area for a flexible setting for concerts or educational events.
• Enable hospitality with a kitchenette.
• Repair parking lot and improve drainage system.
---
Join Us
Taking the next faithful step can feel daunting until we recognize that every Spirit-led journey invites us to follow in trust and hope. We dare to take this step because of our abiding commitment to live as Christ's followers together.
With YOU – your prayers, your partnership, your generous financial support – we will journey side-by-side in investing deeply in the ministry to which God is calling us TODAY for the sake of becoming the vital church the Spirit needs us to be TOMORROW. Please join our synod leadership as Christ's Church, Better Together in taking this important Next Faithful Step.